Đề thi Chính Thức vào lớp 10 môn Tiếng Anh Đà Nẵng 2015 có đáp án. Luyện giải đề thi tiếng anh chuẩn xác từ đề chính thức thi lớp 9 vào lớp 10
Đề thi Chính Thức vào lớp 10 môn Tiếng Anh Đà Nẵng 2015 có đáp án
Đề thi Chính Thức vào lớp 10 môn Tiếng Anh Đà Nẵng 2015 có đáp án
Thời gian: 120 phút
I. Circle the letter A, B, C or D that indicates the best answer to each question. (2.5 pts)
1. I missed the cat so I had to go home ____ taxi.
A. on
B. in
C. at
D. by
2. The opening ceremony of the 28th SEA Games was held ____ June 5th, 2015.
A. on
B. for
C. in
D. at
3. We are ____ that there will be an effective solution to the air pollution in this city.
A. afraid
B. disappointed
C. worried
D. hopeful
4. –"What do you ____ the Intenet for?" –"To get information and to chat with my friends."
A. use
B. do
C. take
D. listen
5. Our father wanted us ____ the room for the party.
A. decorate
B. to decorate
C. decorating
D. decorated
6. What beautiful flowers! I wish I ____ a camera to take a photo of them.
A. have
B. will have
C. had
D. have had
7. Jim was the man ____ won first prize in the competition.
A. which
B. who
C. whom
D. what
8. –"____ have you lived in this town?" – "For 10 years"
A. How long
B. How old
C. How many
D. How often
9. If Peter were here now, he ____ help me with the work.
A. will
B. would
C. may
D. can
10. ____ it was very cold, he went out without an overcoat.
A. Although
B. Since
C. If
D. However
11. My brother had to stop cycling ____ he had a pain in this leg.
A. because
B. so
C. therefore
D. despite
12. The article was posted by James last Tuesday, ____?
A. didn't it
B. isn't it
C. hasn't it
D. wasn't it
13. Bill suggests ____ the dripping faucet to save water.
A. replace
B. replacing
C. to replace
D. replaced
14. We are going to ____ our car repaired next week.
A.let
B. hire
C. have
D. set
15. -"What a lovely house you have!" – "____."
A. Never mind
B. Thank you
C. Of course
D. You're welcome
16. "Don't worry about me – I can ____ myself."
A. look for
B. look forward
C. look at
D. look after
17. Choose the word whose underlined part is pronuced differently from that of the others.
A. mind
B. pick
C. tide
D. invite
18. Choose the word whose underlined part is pronuced differently from that of the others.
A. passed
B. watched
C. expected
D. washed
19. Choose the incorrect part indicated by A, B, C or D in the following sentence.

20. Choose the incorrect part indicated by A, B, C or D in the following sentence.

II. Supply the correct form of the word parentheses to complete each of the foloowing sentences. (1.5 pts)
1. She's not only beautiful but also ……………………… . (intelligence)
2. People in Britain often …………. The song Auld Lang Syne on New Year's Eve. (song)
3. There is a ………… of fresh water in this region during the dry season. (short)
4. English is ………… used in many countries today. (wide)
5. To Hoai was one of the most famous …………….. in Vietnam. (write)
6. Playing with water can keep children ………….. for hours. (amuse)
III. Supply the correct tense of the verb in parentheses to complete each of the foloowing sentences. (1.5 pts)
1. It …………….. (rain) heavily now. Please put on your raincoat.
2. We ……………….. (not/decide) what to get Mark for his birthday yet.
3. Kate …………. (go) to the sports club every Saturday morning.
4. –"This suitcase is too heavy." – "Really? I ………….. (help) you."
5. ……………….. (you/see) Fast and Furious 7 on TV last night?
6. Harry was washing his car while Daisy …………… (read) a book.
IV. Read the advertisement and do the task as directed. (1.5 pts)
Mexico
13-Day Mexican Adventure Tour
Have you ever wanted to hike through a jungle, go cliff diving or climb a pyramid? Have you always dreamed of swimming with dolphins and relaxing on white sandy beaches? If you haven't lived your dream holiday yet, here's your chance to do all these things and more!
Mexico City, Guadalajara, Acapulco, Cancun, Chichen Itza
Accommodation: Stay in luxurious 5-star hotels – single or double rooms and suites available.
Sports activities: Try a wide range of water sports – water-skiing, snorkeling, windsurfing, white-water rafting or jet-skiing. Play golf, tennis or go horse riding. Take a hike through the jungle or try something more relaxing like deeping-sea fishing.
Entertainment: Go to beach barbecues, and night clubs. Take part in cultural events with traditional costumes and dances. Eat quality food at a variety of restaurants and try delicious local dishes.
Other activities: Visit museums and galleries. Take a tour of ancient ruins and temples and climb the pyramid at Chicken Itza. See the famous cliff divers diving from 45m and aven try it yourself. Relax on white sandy beaches and swim with the dolphins.
Total: Single room: £2,500 Double room: £3,500 Suite: £5,200
Prices include: Flights, hotels, meals and tour and transport costs.
Contact: Consort Travel, 52, Hadley Street, Swansea Email: consorttravel@co.uk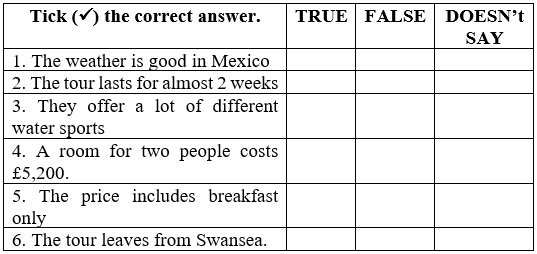 V. Read the following text and circle the letter A, B, C, or D to indicate the correct word for each of the blanks. (1.5 pts)
Mother's Day
"Eat your food!", "Be careful", "Don't be late!" are some phrases mothers (1) ____ famous for. But it's not only advice and orders that they give. Mothers offer us unlimited love and support throughout our lives. To thank them (2) ____ what they do for us every day, we honor them on Mother's Day, every year. Most countries (3) ____ Mother's Day on the second Sunday of May, while others have their Mother's Day at different times throughout the year.
Today, people (4) ____ over the world do special things to please their mothers on this day. They send them cards, give them flowers and chocolates and take them out to lunch. Little children make special gifts for (5) ____ mothers and sometimes they even do the chores around the house to let their mothers (6) ____ a relaxing day.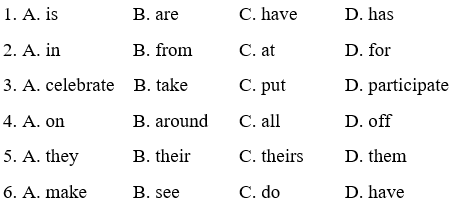 VI. Complete each of the following sentences so that it is closest in meaning to the original sentence. (1.5 pts)
1. "Mary, when does your school vacation start?" asked Peter.
→ Peter asked ………………………………………………………
2. We haven't seen each other for five years.
→ The last ………………………………………………………….
3. Our teacher is ill, so she won't give us a history test today.
→ Our teacher is ill, so we ………………………………….. today.
4. Bring amap with you or you will get lost.
→ If you don't ………………………………………………………
Đáp án Đề thi Chính Thức vào lớp 10 môn Tiếng Anh Đà Nẵng 2015
I.

II.
1. intelligent
2. sing
3. shortage
4. widely
5. writers
6. amusing
III.
1. is raining
2. have not decided
3. goes
4. will help
5. Did you see
6. was reading
IV.
1. NG
2. T
3. T
4. F
5. F
6. T
V.
1B 2D 3A 4C 5C 6D
VI.
1. Mary asked Peter when his vacation started
2. The last time we saw each other was 5 years ago
3. Our teacher is ill, so we will not be given a history test today
4. If you don't bring map with you, you will get lost