Đề thi Chính Thức vào lớp 10 môn Tiếng Anh Đà Nẵng 2016 có đáp án. Luyện giải đề thi tiếng anh chuẩn xác từ đề chính thức thi lớp 9 vào lớp 10
Đề thi Chính Thức vào lớp 10 môn Tiếng Anh Đà Nẵng 2016 có đáp án
Đề thi Chính Thức vào lớp 10 môn Tiếng Anh Đà Nẵng 2016 có đáp án
Thời gian: 120 phút
I. Circle the letter A, B, C or D that indicates the best answer to each question. (2.0 pts)
1. I've got her new address, ________ I can write to her.
A. so
B. as
C. if
D. though
2. Mary is wearing the red dress ________ her mother bought for her last week.
A. who
B. whom
C. which
D. why
3. The traffic is so heavy. I wish there ________ fewer cars.
A. are
B. were
C. will be
D. have been
4. Her parents asked her ________ she wanted to be in the future.
A. what
B. if
C. whether
D. that
5. That's ________! I'm pleased that you practise speaking English every day.
A. terrible
B. disappointed
C. tiring
D.woderful
6. They are going away ________ a few days.
A. from B at
C. for
D. to
7. The doctor ________ me not to stay up late.
A. advised
B. let
C. suggested
D. made
8. My teacher gave me a lot of ________ and helped me pass the test.
A. development
B. politeness
C. encouragement
D. growth
9. Choose the word whose underlined part is pronounced differently from that of the others.
A. wanted
B. demanded
C. lived
D. needed
10. You have finished writing your essay, ________ ?
A. didn't you
B. haven't you
C. don't you
D. won't you
11. It is important that students develop an awareness of how the Internet should _______.
A. using
B. use
C. used
D. be used
12. Choose the word which has a different stress pattern.
A. pollution
B. designer
C. importance
D. newspaper
13. ________ books have you read this year?
A. How far
B. How many
C. How often
D. How much
14. After sending the email, John ________ the computer and went to bed.
A. got out
B. went on
C. turned off
D. looked after
15. Choose the word whose underlined part is pronounced differently from that of the others.
A. flood
B. afternoon
C. typhoon
D. school
16. Rolls: "Would you like to go to the concert?" Bob: "________ . I'm very busy."
A. All right, let me see
B. I'd love to, but I can't
C. No, not at all
D. I don't think so
II. There is ONE mistake in each sentence. Pick it out and correct it. (1.0 pt)

III. Supply the correct form of the word in bold to complete each of the following sentences. (1.5 pts)
1. How we can ……… more visitors to our website? (attraction)
2. You'll find these meals quick and ……….. to prepare. (convenience)
3. The …………. Are here as guests of our city. (science)
4. He told me all the news but none of it was very …… (excite)
5. What a ………. decorated house! (beauty)
6. It was ……….. of him to leave the door open during the night. (care)
V. Complete each sentence with the correct tense of one suitable verb from the box. (1.0 pt)
take play tell come
1. We will have a talk with her when she ……………………….. here tomorrow.
2. YomCruise ……………… part in many films so far.
3. Peter ………… games while his sisters were doing the washing-up yesterday afternoon
4. It's annoying. He ……………… always ………… me what to do.
TEENSPOT

The website for teens…

Teens

Speak

Out!

THIS WEEK'S TOPIC:

Do you help out at home?

How do you feel about it?

Darren, 17, Lincoln

I help quite a lot actually, especially at weekends. I sometimes mow the lawn, for example, wash the car or dust the furniture. My mum and dad both work really hard all week, so I think they need a bit of help.

Stacey, 16, London I sometimes help my mum after school. I often take out the rubbish or wash the dishes. It's not fair though! My brother never helps! He just disappears into his bedroom and lets me do all the work!

Greg, 18, Manchester

To be honest, I don't usually help much with the housework, I just clean my own bedroom once a week. At the moment I'm doing exams. It's not that I don't want to help, it's just that I never find the time!

Jenny, 18, Scarborough

My mum and dad run a hotel. They are really busy, so I often help to make the beds, cook the breakfast or dust the furniture. I don't mind at all. Sometimes my parents even pay me!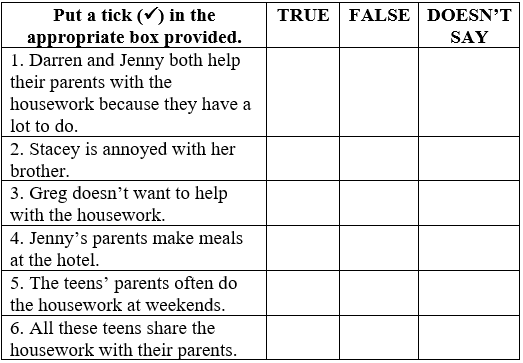 VI. Read the following text and circle the letter A, B, C, or D to indicate the correct word for each of the blanks. (1.5 pts)
Scotland is the north part of the island of Great Britain. The Atlantic Ocean is on the west and the North Sea on the east. Some people in Scotland (1)_______ a different language (2)_______
Gaelic. There are about five million people in Scotland, and Edinburgh is (3)_______ most famous city.
Scotland has many mountains; the highest one is called "Ben Nevis". In the south of Scotland, there are a lot of sheep. A long time ago, there (4)_______ many forests, but now there are only a (5)_______ .
Scotland is only a small country, (6)_______ it is quite beautiful.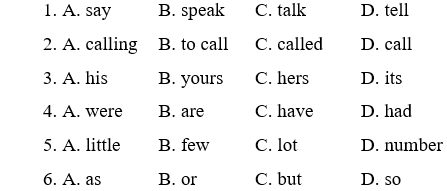 VII. Complete each of the following sentences so that it is closest in meaning to the original sentence. (1.5 pts)
1. I would like you to put these things away.
Would you mind ………………………………………………………..…?
2. You don't have much time for reading because you watch too much TV.
If you didn't ……………………………………………….……….………..
3. He tried to run as fast as he could; however, he didn't win the race.
Although ……………………………………………….……….…………..
4. It is over 450 years since the birth of Shakespeare.
Shakespeare ………………………………………………………………..
Đáp án Đề thi Chính Thức vào lớp 10 môn Tiếng Anh Đà Nẵng 2016
I.

II.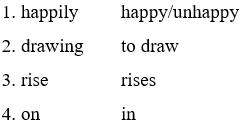 III.
1. attract
2. convenient
3. scientists
4. exciting
5. beautifully
6. careless
IV.
1. comes
2. has taken
3. was playing
4. is always telling
V.

VI.

VII.
1. Would you mind putting these things away?
2. If you didn't watch too much TV, you would have much/more time for reading
3. Although he tried to run as fast as he could, he didn't win the race
4. Shakespreare was born over 450 years ago.